Profile - Renate A. Pasch
The focus of my work as a coach and mediator on the national level is the preparation, attendance, monitoring, and management of change processes as well as conflict solving. At least once, but mostly more often in life, each individual faces change. To manage these changes special support is required. My special competence is in the above fields
The guiding principles for me in coaching are
The solution of the problem is hidden in the coachee him-/herself. I can assist him/her in "digging out" or developing solutions.
Which methods or methodological mix will be applied is subject to the outcome of the first meeting with the coachee and the identification of his/her coaching needs.
Absolute confidentiality is a must and self-understood.
The objective
Of my coaching and training is to enable the coachee/trainee to find his/her own ways and solutions.
The picture of a "coach" in the original sense of the term, moving from one place to another and a "coach inn", symbolize in an impressive manner a "point of departure" or change -of horses- and/or a re-start in life.
Target Groups for Coaching and Training are
Individuals who want to develop professionally or want resp. have to change their professional ways and meet other and may be bigger challenges.
Teams which face the challenges of having to re-organize themselves and finding themselves in new roles.
One of my partners for coaching is Dr. Karin Martens-Schmid.
Work- /Country Experiences: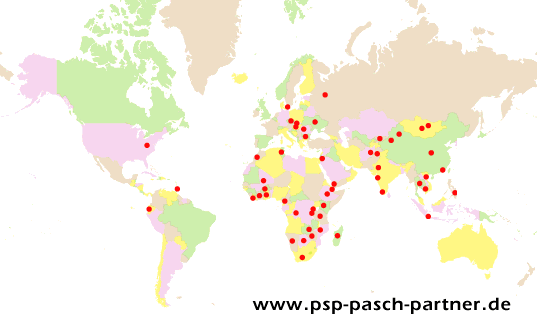 Afghanistan, Albania, Azerbaijan, Ethiopia, Barbados, Botswana, Burkina Faso, Burundi, Djibuti, DR Congo, Ecuador, Ivory Coast, Ghana, India, Indonesia, Jemen, Jordan, Cambodia, Cameroon, Kazakhstan, Kenya, Kyrgyzstan, Madagascar, Malawi, Mali, Morokko, Mongolia, Namibia, Pakistan, Philippines, South Africa, Tanzania, Thailand, Togo, Tunisia, USA, Vietnam, PR China, Zambia, Zimbabwe
Germany, Europe and Eastern European Countries: Bulgaria, FYROM (Macedonia), Georgia, Poland, Romania, Russia, Slovakia, Czech Republic, Ukraine, Hungary.
Curriculum Vitae
For more than 20 years I have been working nationally and internationally in the following areas and have moderated more than 350 workshops and seminars and conducted individual coachings:
Moderation of workshops and seminars
Mediation (alternative dispute resolution) and conflict management
Intercultural management and support/advise in transformation processes
Adult education and –training
Planning methods
Project evaluation
Systemic coaching and change management
Management of my own company
In Germany/Europe I am working for private industry, professional associations and municipal authorities.
I have been working for many reputable national and international organizations, companies and NGOs.
I am member of InWEnt Coach Pool and ZIF Expert Pool.
As a lecturer I have been lecturing planning methods and target orientation approaches for many years at universities and universities of applied science.
As an international election observer I have been deployed in many countries.
After school, university, and employment in Germany I attended quite a few advanced trainings and academic studies.
Field security training for conflict areas
VN Ausbildungszentrum BW
Adult education and –training
Universität zu Köln
Planning – and project planning methods
GTZ In-House Training
Mediation (alternative dispute resolution)
Haus der Technik e.V., Außeninstitut der Rheinisch-Westfälischen Technischen Hochschule (University) Aachen
Systemic Coaching and Change Management
INeKO, Institut für die Entwicklung personaler und interpersonaler Kompetenzen an der Universität zu Köln (University)
Regional Focus
Asia, Central Asia, Africa, and Eastern Europe
Languages
German (mother tongue)
English (fluent)
French (fluent)
Spanish (basic knowledge)
PSP
Pasch & Partner
Merlostraße 10
D - 50668 Köln